Reimagining The Home-Office
Reimagining The Home-Office
Reimagining The Home-Office
Technology has created many possibilities and until COVID19, we are seeing many companies and MNCs implement work-from-home policies. This has resulted in some interesting results with reports of higher productivity rates while working from home. So what happens to the traditional commercial office? We explore 3 possible trends post-COVID which may be the New Normal for the office — the traditional place of work.
Neighbourhood Coworking — Hub & Spoke Models for Companies
In my earlier article we spoke about the possibility of coworking spaces being less concentrated in Grade A buildings in the Central Business District, City locations. This makes sense, especially with the current pandemic, as people do not need to squeeze into public transportation during rush hour daily to a central location just to perform the tasks which they can perhaps do remotely. More companies may just need to implement a hub-and-spoke model for their operations to cater to this virus-driven change.
Neighbourhood coworking spaces makes sense and saves time (and perhaps lives) for working professionals from their daily commute and it's a good alternative to accommodate to the working professionals who would like to work in an office near their home.
In fact, this is already happening as we witness some coworking companies operating in less prime, more residential areas. What originally looked slightly out of place (IMHO) is blending nicely into a very local environment — almost proclaiming to be a local brand.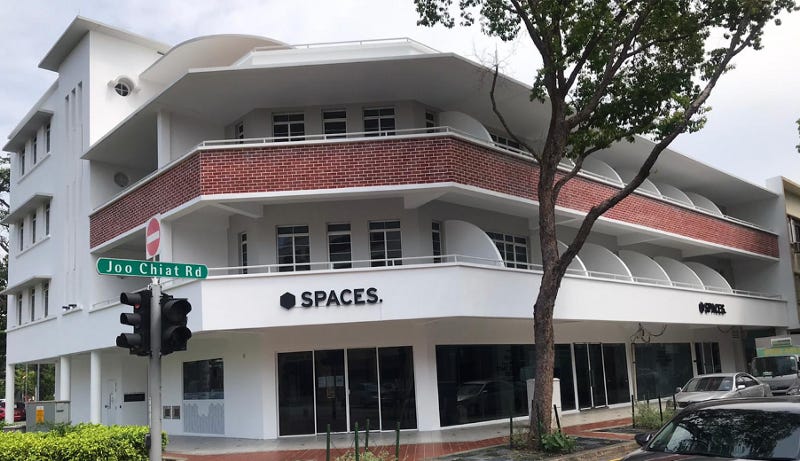 IWG's Spaces Coworking Offices nestled in a largely residential neighbourhood, Joo Chiat Road in Singapore. Location is close to local hawker centres / coffee shops and amongst rows of pre-war shophouses.
Air-Offices (AirBnB for Work)?
In a recent interview conducted by CNBC's SquawkAlley, Airbnb CEO spoke about the impact of COVID-19 on its business and how this pandemic will change travel and tourism. "Travel as we knew it is over. It doesn't mean travel is over, just the travel we knew is over, and it's never coming back." He goes on to say that "…work from home can be work from any home and that's an opportunity for Airbnb because you're going to see major population redistribution on the table…"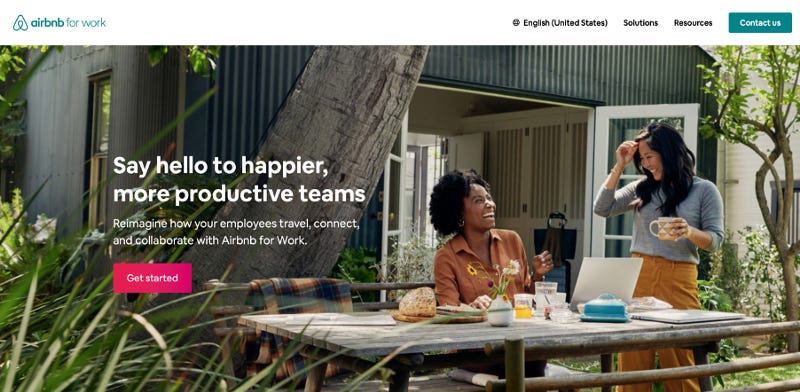 Is AirBnB looking to enter into the commercial / work office space? With work-from-home as the new norm, it seems to suggest that they may be more focused on working professionals relocating to other, more affordable cities. It may also mean providing their unique hybrid offering of both living and working together.
Hosts may find an incentive to fit-out their homes with functional workspaces to entice working professionals to rent their homes. Teams of working professionals who are in a particular city on a project, may be housed into a nice large penthouse with bedrooms and large enough areas for functional workspaces. For a company that runs onsite projects for their clients, this may work as it amalgamates both accommodation and office space under a single potentially smaller bill.
Sounds a lot like Coliving
"Live, Work and Play" these verbs seem to coexist more and more as a mantra with today's generation of working professionals, and a motto for the operators that host / serve them. Coliving spaces, while may not be for everyone, boasts of communities that allow digital nomads, entrepreneurs and usually younger working professionals to live, work and play with like-minded people.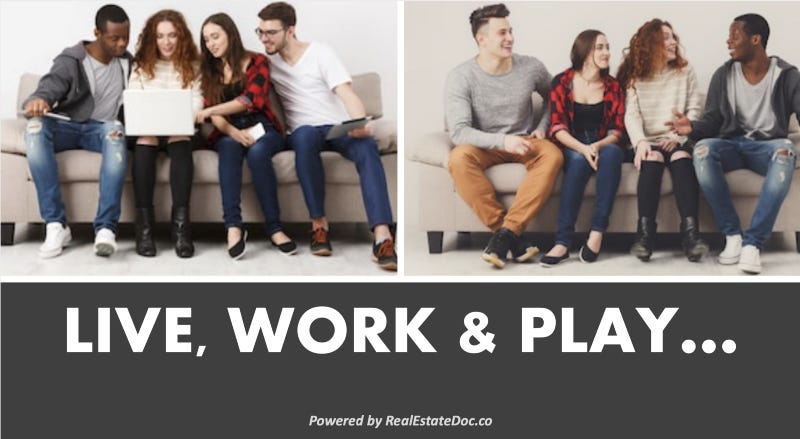 The benefits of building a community for coliving spaces (like coworking) for landlords and operators provides a sense of belonging for their members and more importantly, brand loyalty to its offerings and services. You can find that coliving operators now provide fully equipped, high quality workspaces and break out areas for their members to focus on their work tasks within the same building where they live.
The Role of Technology
Applying the right technology plays a key role for real estate moving forward. It allows real estate players to refresh their offerings and redefine value propositions in this age-old industry.
Coliving operators for one are redefining this new segment of hospitality. From engaging their members to management of the physical spaces, agreements and housekeeping; the right technology software not only enables the operators / landlords to run their operations smoothly, but also the ability to gather insights and preferences of their members and clients to provide a more bespoke experience. Procured services from partner vendors in the operators ecosystem compliments as an overall brand offering to loyal returning and referring members.
With COVID19 and the emphasis of work-from-home as the new-normal, coliving operators, may just become the new cherry-on-top for real estate portfolios.
Ivan Lim, CEO, RealEstateDoc.co
About Real Estate Doc Pte Ltd
Real Estate Doc (RealEstateDoc.co) is the frontend Cloud Operating System for Flex-Space Operators. From Contract Lifecycle, Space and Tenant Management, RED's Configure-Price-Quote (CPQ) software tools optimizes occupancy of real estate assets, helps businesses drive business deal-flow from Quote-to-Close.
For more details on Real Estate Doc, visit https://realestatedoc.co